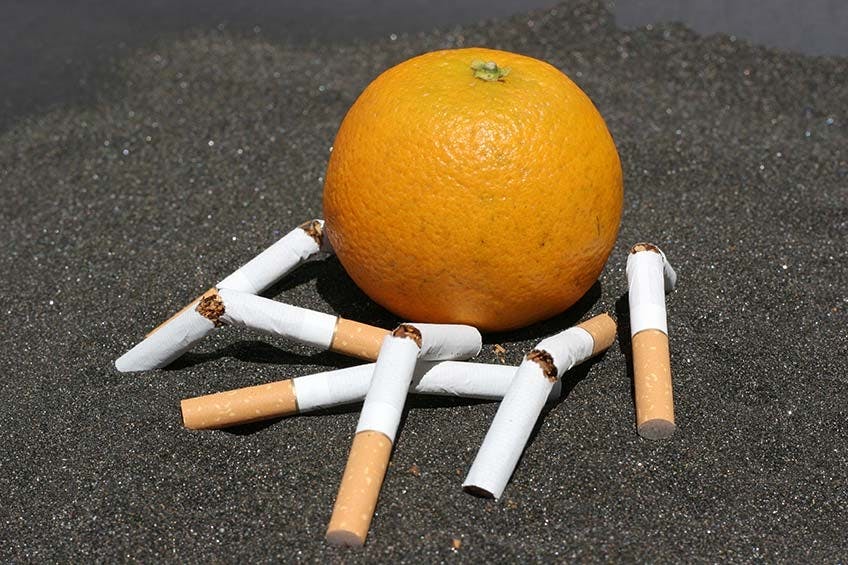 Smoker's guide to looking after your lungs and vitamin C
25868

Views
Posted on:
June 1st 2020
Updated on:
December 10th 2021
With the ever-present worry of catching the coronavirus Nutritional Therapist Jackie Newson explains that focussing on lung health is more important now than ever.
Reports from the medical frontline indicate that Covid-19, the latest strain of coronavirus, is particularly hard-hitting on the lungs, which does pose an extra level of anxiety for smokers or anyone suffering from a diagnosed respiratory condition.
If you're a smoker, then it's only natural to consider giving up tobacco, especially as it's known to make the lungs more vulnerable to infection. Medical experts and scientists from around the world agree that giving up smoking should be a priority for those wanting to help reduce the risks associated with Covid-19.
Quitting an addiction to tobacco brings a host of health benefits that make the struggle worthwhile. You could expect to experience improved taste and a heightened sense of smell even within the first 48 hours. There are also a significant number of other valuable health benefits that may quickly become apparent. These noticeable changes should offer some reassurance that your lungs stand a greater chance of recovering from an infection:
blood oxygen levels increase to normal

lung function increases

blood pressure decreases

circulation improves

pulse rate drops

risk for stroke falls

nerve endings start to regenerate

chance of having a heart attack decreases

risk for cancer of the lungs, throat, mouth and bladder become halved
Realistically though, you first have to go through the unpleasant effects of nicotine withdrawal which tend to last from 2-4 weeks after giving up. There's no easy way around this but the good news is that there are countless tools available to support you along the way. Your local health service provider should be able to offer some very effective treatments and therapies to help you get through it.
How vitamin C may help
The body normally does a great job at protecting and healing itself, but when faced with a particularly challenging infection the body may need a helping hand. To help support this process you could enlist the help of vitamin C, one of nature's most effective natural remedies, which is easy to come by and totally safe.
Vitamin C is probably one of the best known and most frequently used of all vitamins and isn't just handy for those moments when you feel the sniffles coming on. This nutrient performs a myriad of functions in the body and when it comes to supporting lung health after giving up smoking, it could prove invaluable.
How does vitamin C help lung function?
Cigarette smoke contributes to the loss of lung function, partly due to the oxidative burden it places on your lungs. Keeping your lungs as healthy as possible is particularly important in terms of the coronavirus, which has the potential to create severe respiratory problems in a small subset of people. Whilst most recover easily after contracting Covid-19 a few may experience severe lung damage.
Early research has indicated that smoking has an adverse effect on vitamin C metabolism and continuing research confirms that smokers tend to have lower levels of vitamin C in the bloodstream compared to non-smokers. What's more, several studies indicate that vitamin C may have a positive effect on lung function, which could be because of its contribution to the protection of cells from oxidative stress.
Vitamin C also contributes to normal collagen formation for the normal function of blood vessels. The tissues in the lungs are lined with many tiny blood vessels, which deliver oxygen to red blood cells, which could become damaged due to Covid-19 complications.
Can vitamin C support the immune system?
A daily dose of vitamin C may help support your body's defense system cope with an infection. Keeping your immune system in tip-top condition is vital during these challenging times, so it pays to invest in some supportive nutritional supplements. Studies show that vitamin C contributes to the normal function of the immune system, so now's the time to ensure you are gaining adequate amounts either through your diet or by supplementing. Vitamin C rich foods include:
Bell peppers

Cherries

Guavas

Strawberries

Broccoli

Brussels sprouts

Kale

Kiwi

Oranges

Sweet potato
Topping up on vitamin C levels
You should be fairly motivated now to quit your nicotine addiction, but there could still be some obstacles to overcome, especially if your usual eating habits aren't that great.
It may be that you're not a great lover of fruit and vegetables and are hard pushed to get one a day into your diet let alone the 5-10 you'll need to maximise your vitamin C levels. Or getting hold of fresh produce on a regular basis might be particularly difficult at this time, in which case, supplementation is a sensible option.
But before you rush out and stock up on huge pots of vitamin C, stop and consider which form of vitamin C to buy. Standard oral vitamin C supplements (ascorbic acid) are very poorly absorbed due to digestive limitations in the gut. Efficacy and absorption are key in any supplement, which is why a liposomal form of vitamin C, such as Altrient C, is the one to consider.
Altrient C's unique liposomal delivery system ensures far superior absorption of the encapsulated vitamin C into the bloodstream by carrying it in a protective membrane. The phospholipid barrier that surrounds the vitamin C remains intact as it transits through the stomach offering more efficient absorption unlike other standard capsules and tablets, which may be negatively affected by gastric juices.
Important lifestyle changes for smokers
There are a couple of basics aside from vitamin C that should be mentioned on your road to renewed lung health.
1. Don't underestimate the benefit of regular exercise – this supports cardiovascular health, increases lung capacity, supports the oxygen supply to the brain and supports the feel-good hormones that help feelings of happiness and support motivation. Take advantage of the many free exercise videos currently available online and aim for at least 30 minutes a day.
2. Keep your diet healthy and well-balanced – this means choosing wholegrain carbohydrates, good quality proteins, healthy fats and a wide variety of vitamin and nutrient-rich fruit and vegetables. Start to limit sugar, processed foods and don't drink too much alcohol.
3. Offset stress and anxiety with easy breathing exercises – giving up smoking along with all the other challenges you may be facing could contribute to increased stress and anxiety. It is possible to manage negative emotions with some easy breathing exercises. Practising transformational breathing techniques also helps to increase lung capacity and oxygen flow.
The restorative power of

Transformational Breath®

work
Learning how to breathe in a way that reduced stress and anxiety is the focus of a discipline called Transformational Breath work. We asked UK practitioner Elif Clarke to explain how important this breathing work can be during these challenging times. Here's her response...
"Transformational Breath® helps address the unhelpful beliefs and thoughts which underlie anxiety in relation to smoking and Covid-19. When we feel anxious, we hold our breath. Transforming your breathing from shallow inhales or chest breathing associated with a stressed and anxious state to breathing deeply with the diaphragm helps slow down your heart, reduce levels of cortisol and adrenaline and help return the nervous system to a rested state."
Transformational Breath® use four modalities to instigate change and release stress and anxiety.
1. Movement – helps release tension connect us to our subconscious from the diaphragm and release pent-up energy and release inhibitions,
2. Sound - helps release tension around the jaws, to express their unexpressed truth, so that they can feel heard and listened to.
3. Acupressure – helps release tension from constricted muscles and let go of stored painful emotions
4. Affirmation – helps to build self-confidence and positivity and access your true essence
Transformational Breath® is essentially conscious connected breathing with no pauses on inhale and exhale, that helps trigger the parasympathetic nervous system and release tension in your body and utilise your full lung capacity which has many benefits.
For more information about Transformational Breath® or for a one-to-one online Transformational Breath® session (available for all Europeans countries so long as you speak English!) with practitioner Elif Clarke, visit www.elifclarke.com
These simple changes coupled with a daily dose of vitamin C are designed to help support your quest for giving up smoking and help support lung function for a long and healthy smoke-free lifestyle.
Jacqueline Newson BSc (Hons) Nutritional Therapy
References
Blokstra A et al. Lung Function Loss, Smoking, Vitamin C Intake, and Polymorphisms of the Glutamate-Cysteine Ligase Genes. Am J Respir Crit Care Med. 2008; 178: 13–19.

Bridges RB et al. Lower levels of vitamin C and carotenes in plasma of cigarette smokers. Journal of the American College of Nutrition 1986; 5,3.

Byrd JC et al. The Influence of Smoking on Vitamin C Status in Adults. AJPH.

1989; 79: 158-162.

Centre for Disease Control and Prevention. Health Effects of Cigarette Smoking. https://www.cdc.gov/tobacco/data_statistics/fact_sheets/health_effects/effects_cig_smoking/. [Accessed 19.4.20]

National Institute on Drug Abuse. Cigarettes and Other Tobacco Products.

https://www.drugabuse.gov/publications/research-reports/tobacco-nicotine-e-cigarettes/introduction

. [Accessed 19.4.20]

Rahman I and MacNee W . Oxidant/antioxidant imbalance in smokers and chronic obstructive pulmonary disease. Thorax 1996 51: 348-35.

Wu J, Sin DD. Improved patient outcome with smoking cessation: when is it too late?. Int J Chron Obstruct Pulmon Dis. 2011;6:259–267.